Main & South
Mon-Thu:
Fri-Sat:
Sun:

9:00 a.m.-8:00 p.m.
9:00 a.m.-5:30 p.m
2:00p.m.-5:30 p.m

Russiaville
Mon/Tue/Thu:
Wed:
Fri/Sat:
Sun:

9:00 a.m.-8:00 p.m.
Closed
9:00 a.m.-5:30 p.m.
2:00p.m.-5:30 p.m

*Russiaville is closed Wednesdays
Hours Today
Main & South:
Russiaville:
---
Wellness by Nathan Hill
607 pp
Adult Fiction
5/5*
Formats Available: Physical book, Libby eBook and eAudiobook
When Jack and Elizabeth meet as college students in the gritty '90s Chicago art scene, the two quickly join forces and hold on tight, each eager to claim a place in the thriving underground scene with an appreciative kindred spirit. Fast-forward twenty years to suburban married life, and alongside the challenges of parenting, they encounter the often-baffling pursuits of health and happiness from polyamorous would-be suitors to home-renovation hysteria. 
 
For the first time, Jack and Elizabeth struggle to recognize each other, and the no-longer-youthful dreamers are forced to face their demons, from unfulfilled career ambitions to childhood memories of their own dysfunctional families. In the process, Jack and Elizabeth must undertake separate, personal excavations, or risk losing the best thing in their lives: each other.
Parenthood can easily become very isolating. Jack and Elizabeth see their old college friends pairing off and starting families, and they are left by themselves. After having a child of their own, they find that they long for their college years where they lived as a collective rather than a set of individuals.
Jack and Elizabeth live in a new world where they see perfection everywhere. From the houses on Instagram to the (mostly imagined) worlds of their fellow parents, it's easy to find the faults in their lives. Jack needs to work out to lose weight and Elizabeth needs to make the perfect plates of food for their son, all while juggling their busy lives together. But they just aren't sure if this is all there is. They recall the artist's life they had in college and yearn for something deeper.
Finding the answers to these problems means confronting their troubled and abusive pasts and envisioning a future together where maybe everything isn't perfect.
For more book recommendations please tune in to Off the Books with B&S Podcast on any of your preferred podcasting platforms; new episodes air every other Thursday.
-Justin
---
---
I Want To Eat Your Pancreas by Yoru Sumino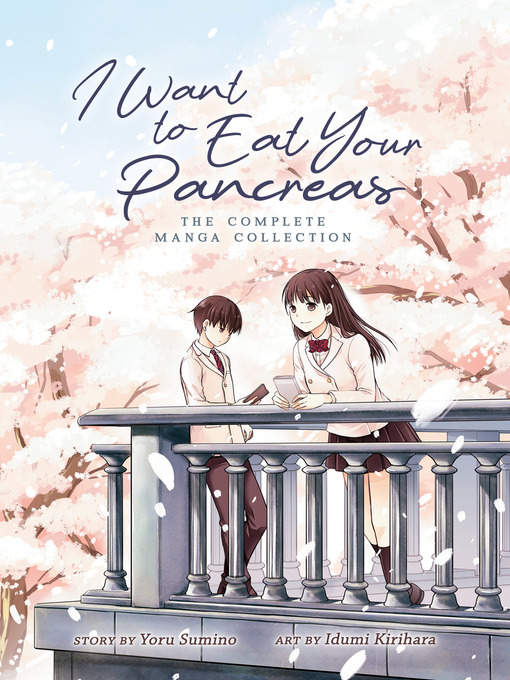 442 pages
YA Manga
4.5/5 *
Formats available: Libby Graphic Novel
Also known as Let Me Eat Your Pancreas, the manga version of the coming-of-age novel that inspired two films! In this deeply moving first-person story, an introverted high school boy finds his classmate's diary—and learns her biggest secret. Yamauchi Sakura is dying from a pancreatic disease and now he is the only one person outside her family to know the truth. The last thing the boy wants is to be her friend, but Sakura's cheerful demeanor and their shared secret draw them together in this heartrending tale of friendship and mortality.
When you lay this book down, title facing up, people read it then look at you weird; what I am trying to say is that it's worth it. Personally, I am not a big fan of slice of life romance; however, when I saw this title I knew I had to take a bite. The author does nothing to disguise the inevitable ending of this book and I was worried that there wouldn't be enough to keep me attached and invested in the story; sometimes I love being wrong. Sakura and her morose little friend build a unique bond quickly, and you're sucked into this joyous tragic ride. Be ready to laugh, giggle, and then cry a little. As a reader I think you'll easily relate to one or the other character. For me the sad little friend shared a lot of experiences and feelings about interacting with people that I felt as a young adult. The struggle to make deep connections and friendships, the battle to have people in my life and not hide in books, and the struggle with finding purpose and meaning. Then suddenly, and even violently, Sakura disrupts his world and their lives are immediately intertwined changing them both in ways they didn't realize they needed. I enjoyed the devastation and the heart. This is a great addition to your reading list and an amazing refresher. Give this amazing book a go!
For more book recommendations please tune in to Off the Books with B&S Podcast on any of your preferred podcasting platforms; new episodes air every other Thursday.
---
---
Iron Flame by Rebecca Yarros
878 pages
Romantasy
5/5*
Available: Book, Playaway, Libby eBook, Libby eAudiobook

"The first year is when some of us lose our lives. The second year is when the rest of us lose our humanity." —Xaden Riorson

Everyone expected Violet Sorrengail to die during her first year at Basgiath War College—Violet included. But Threshing was only the first impossible test meant to weed out the weak-willed, the unworthy, and the unlucky.

Now the real training begins, and Violet's already wondering how she'll get through. It's not just that it's grueling and maliciously brutal, or even that it's designed to stretch the riders' capacity for pain beyond endurance. It's the new vice commandant, who's made it his personal mission to teach Violet exactly how powerless she is–unless she betrays the man she loves.

Although Violet's body might be weaker and frailer than everyone else's, she still has her wits—and a will of iron. And leadership is forgetting the most important lesson Basgiath has taught her: Dragon riders make their own rules.

But a determination to survive won't be enough this year.

Because Violet knows the real secret hidden for centuries at Basgiath War College—and nothing, not even dragon fire, may be enough to save them in the end.
Ride or die.
And I died. Rebecca Yarros sure knows how to leave us hanging on a cliffhanger. Iron Flame, the sequel to The Empyrean Series was a literal emotional roller coaster full of battle, love, and of course…DRAGONS! I can confidently say I had no idea what was going to happen for even a second. I didn't know who was going to lose their lives, or if I could emotionally repair myself after the final page. Our main character, Violet, has come so far from the first book and has grown into quite the badass. Proud mother moment. I tried to stay off social media because I knew people were going to be talking about Iron Flame since it is so wildly popular. However, I did watch people's reactions to reading the ending. The temptation was too strong.
So, to the ending I trudged…. absolutely dreading what could be waiting for me to read. There isn't a good enough description to tell you guys about how utterly "shooketh" I was. My heart has left the building and has been eviscerated by you, Rebecca. Until next time you emotionally destroy me in the best of ways.
For more book recommendations please tune in to Off the Books with B&S Podcast on any of your preferred podcasting platforms; new episodes air every other Thursday.
-Samantha
---