"Waiting On Wednesday" is a weekly event hosted by Jill over at Breaking The Spine, and it gives you a chance to spotlight a book that you are eagerly waiting to be released. This week I picked:
Bad Blood
by Jennifer Lynn Barnes
Publication Date: November 1st, 2016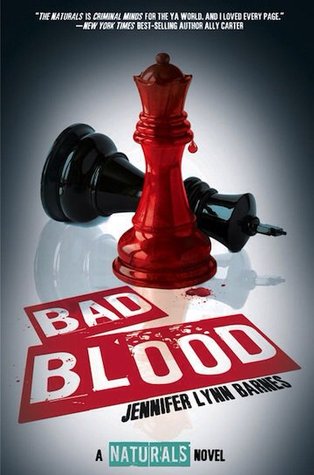 Summary from Goodreads:
When Cassie Hobbes joined the FBI's Naturals program, she had one goal: uncover the truth about her mother's murder. But now, everything Cassie thought she knew about what happened that night has been called into question. Her mother is alive, and the people holding her captive are more powerful—and dangerous—than anything the Naturals have faced so far.

As Cassie and the team work to uncover the secrets of a group that has been killing in secret for generations, they find themselves racing a ticking clock.

New victims. New betrayals. New secrets.

When the bodies begin piling up, it soon becomes apparent that this time, the Naturals aren't just hunting serial killers.
 Why?
I love this series, it was one of those hidden gems that I picked up on a whim and decided to give it a try. And. I. Loved it. I am a big fan of the whole murder mystery theme (though I don't like when it's too gruesome, bleh) I loved watching Diagnosis Murder when I was little, and I always had my nose in a Nancy Drew Book (even though Nancy Drew is more mystery, less murder) and now I watch the Aurora Teagarden and the Hannah Swenson mystery movies on Hallmark (both of which are based off of books that you can check out by clicking here and here) anyway, enough of my rambling. This series has just enough action and twists and turns to the plot, that it will keep you on the edge of your seat the entire time. The way things ended in the last book, I am not so patiently waiting to find out what happens next. If you would like to read more about this book and put your name on the hold list, click here.
Save